Inside FTB
Secure Email Upgrade
Since 2010, we send confidential information to you using Secure Email. Secure Email is a fast, cost effective, and secure way to communicate confidential information to you, without installing software on your computer. Secure Email encrypts the data sent to you. Regular email fails to meet our security standards to email confidential data.
We upgraded Secure Email on Sunday, November 27, because our current version will no longer receive support from the vendor.
This is the new look for Secure Email: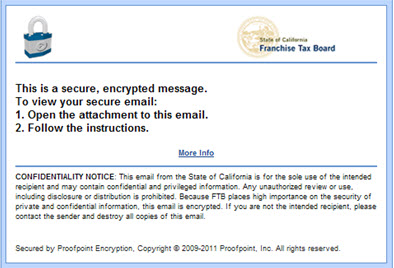 The Secure Email upgrade:
Provides an improved, easier-to-use web-based interface.
Simplifies the registration process.
Requires you to re-register.
Eliminates your ability to view pre-upgrade Secure Email.
If you need to view pre-upgrade Secure Email, please contact the sender and ask them to resend the information in a new Secure Email.
We place high importance on the security of private and confidential information. To ensure email sent from us is protected, Secure Email may be initiated by our staff or automatically by us depending on the content of the email. Secure Email cannot be initiated from an individual outside our department.
As a reminder, the IRS prohibits us from emailing Federal Tax Information outside our department in any email, encrypted or not.
If you have any questions, please contact our technical support at SecureEmailSupport@ftb.ca.gov.
Close Survey